5 Awesome Campfire Cooking Equipment That You Can't Live Without
Outdoor camping is full of fun. Sitting in a group around the fire, watching the glow of flames, smelling spicy sizzling lambs steak; all are amazing activity. That's what most of the people think when mentioning camping. Yes, cooking in a camp is really exciting.
But open flame cooking requires a lot of planning. Basic cooking equipments are one of those. Some essential utensils may decide what type of experience you'll have.
You may carry lots of fancy gear. But unless you have the plan to cook some specific dishes, how can you decide which utensils you should carry to your campsite cabin? The recipes will lead your way.
A good selection of portable and multipurpose cooking tools will play a vital role in determining. You certainly don't want to carry two types of equipment that can cook the same recipe.
Here are the lists of 5 essential campfire cooking utensils which will reduce your backpack's weight and give you an excellent experience.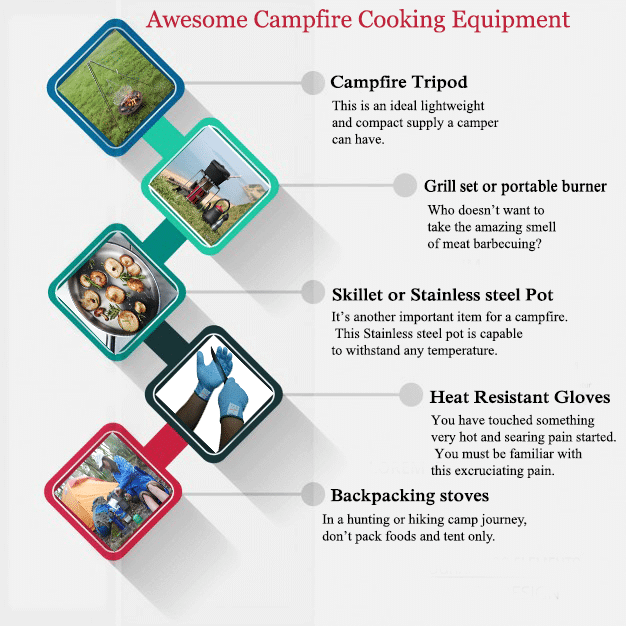 1. Campfire Tripod:
This is an ideal lightweight and compact supply a camper can have. This easy-to-carry equipment allows you to cook in a lot of ways. This tripod let you hang kettles, pots, or any other utensils which have hanging options. Even you can hang a full-length lamb's leg and enjoy the smell of roasting.
If you want to get an identical temperature, you can lower or higher the chain that comes with the tripod. This three-legged stand has a quick disseminating option.
There is a risk involved with this hanging stand. If the setup isn't sturdy or if somehow the upper lashed rods couldn't hold each other tightly, it could mess up the meal.
The good news is if you forgot to bring this handy tool, you can make one in the middle of the jungle. You'll need 3 same-size wood stakes (mostly 4′ long), and a steel chain with both ways hocked (S-Hooks) attached.
Bring a Dutch oven lid stand for your next trip. It'll help you to deal with a different dilemma. 
2. Grill set or portable burner:
Who doesn't want to take the fantastic smell of meat barbecuing? It won't fulfill your camping desire without this meal. You can cook almost everything over a portable burner, even vegetables too.
You can place any cooking skillet or pot over this grill grate. If you are planning to cook over coal, then get a cooking grate with sturdy legs. I carry a more significant size, allowing for placing 2 pots at a time. It saves my cooking time.
This practical and simple item can be fitted inside the car quickly. For the burner, you can carry propane or charcoal, which are now readily available in any market.
More importantly, for reuse, clean it immediately after each use.
3. Skillet or Stainless Steel Pot:
It's another essential item for a campfire. This Stainless steel pot is capable of withstanding any temperature. Fry any meat or fish, or vegetable easily within a short time.
Compared to cast iron, the SS skillet is much lighter. So without driving, you can carry it easily in your backpack. Once the pan is heated, it can hold the heat and distribute perfectly, even for a longer time. If you put it over direct heat, it can heat up much faster.
I prefer a long handle as it protects me from the flame of fire. You also can hang it on the tripod easily. It'll let you taste nutritious food on an open fire camp.
A pro tip to clean the pot is to heat it up for a few minutes. Once it's heated up, pour some vinegar or washing detergents and put it on the fire for a few minutes. Take away the pot and clean it with a paper towel.
4. Heat Resistant Gloves
You have touched something very hot, and searing pain starts. You must be familiar with this excruciating pain. In such a situation, you want to flick the pain immediately. You are ready to do whatever it takes to release the pain. Touching a hot iron or steel is a suicide.
In a campfire, flames or sudden spark is your biggest enemy. No one wants to suspend the trip and return home with burned skin. You must deal with fire, hot metal, and frequent heat in camping. So you have to wear heat-resistant gloves.
This additional protection will uplift your cooking experience. Make sure you have bellow features –
• Outer materials should be heat resistant.
• Fabric should not melt in any condition.
• The fabric should be thick enough to reduce the heat transfer rate.
• Easily removable- it's needed in case you are exposed to extreme heat.
I prefer to carry gloves, primarily colorful. Color cherishes my mind, and contrast helps me to find the gloves quickly.
5. Backpacking stoves:
Don't pack food and a tent in a hunting or hiking camp journey only. You need some fire source also. From making coffee to preparing your dinner, you need a portable stove, especially if you are going on a winter trip.
You need a warm meal before starting a day out in the wild. Let's be realistic. You have passed a tough cold night under the snow-covered mountain. Now, who might want to start gathering firing materials just after leaving their tent or two person hammock? Instead, you'll search for a quick solution that might help you to chill.
In this situation, a hassle-free portable stove is like a magic torch.
But many campers believe since nature can deliver plenty of fire sources (like leaves or wood), they don't need extra luggage.
The reality is more challenging than you think. Damp materials and highly humid weather will not make it easy for you to start a fire.
Usually, you can cook 10 to 20 times with it. Take a spare container if you stay some extra days.
A good campfire cooking experience can bring a smile to your face. Trip days may be a nightmare unless you have the essential cooking materials except for quality juicers. Decide your meal and plan to carry the proper utensils.
At last, gather information about the campsite as much as possible and filter your preferences. Depending on the facilities and cooking plan, decide what to include and what to left home. Make the right choice and have unlimited fun.