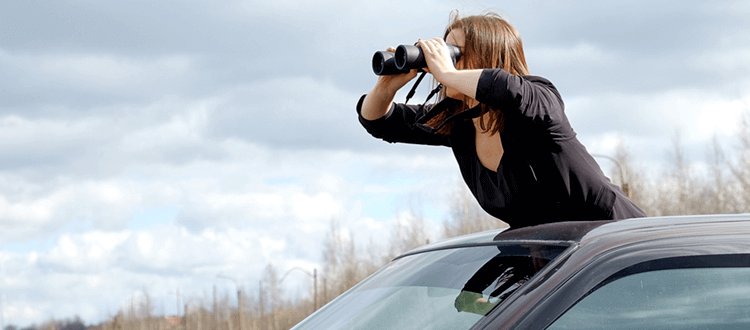 Best Binoculars Under $200 {Based on Real User's Reviews}
Last Updated on
It is said that beauty lies in the eyes of the beholder. But sometimes you might need an additional pair of eyes in the form of a binocular to appreciate fineness. Though you must have used a binocular before in high school or for star gazing amidst a random camping voyage, you wouldn't have considered diving in to buy one.
If you are a nature lover, a bird watcher or someone who can be defined as an explorer, we say that now is the time to take the buying plunge. This is because investing in the right pair of binoculars can amplify your viewing experience thus making every sight worthwhile.
People perceive that good things come at an alarming price. But what if we say that you can get the best binoculars under $200? We know it is easy to be swayed away from the budget when baited with myriad features and up to the minute technology.
So, we have finely curated a list of binoculars that promise to be your time and money saver! Before you jump in to read and buy, remember to stay focused on the features of binoculars that are important to your purpose of purchase. Keeping your viewing expectations in mind will help you to make an unbiased and cost-effective purchase, in turn aiding you to save a fortune!
---
Best Binoculars Under $200 Comparison Chart
Our Top Picks Binoculars Under $200 Reviews
There are too many, too good binos available in the market. Picking the right one that fits your viewing bill can be a cumbersome task. This section includes our top favorite, highly competent and price justified binocular pieces. We have highlighted their best features as well for you to make an informed and wise decision. What's more? They all cost below $200!
1. Wingspan Polaris Optics SkyView Ultra HD Binoculars
The Polaris Optics SkyView Ultra HD 8x42 binoculars tops our favorites list. Originally priced at 399.99, these binoculars are currently available for only $169.99. With a 58% discount, it is certainly a steal deal.
These binoculars will enable you to view every color and every detail of the object like its right in front of you. Anything viewed with the Polaris Optics SkyView Ultra HD 8x42 binoculars will not only be highly defined but will be crisper than fine paper. With viewing quality as precise as this piece, we can safely bet that these binoculars can be considered as the best birding binoculars of 2020.
If you purchase these binos, stay assured to never be disappointed with its performance!
Bird Watching Binoculars With ED Glass
Taking bird watching to a whole new level is how we would define the viewing experience from these binoculars. The in-built Ultra ED glasses permit the user to view even the minutest details on every feather with exceptional clarity. ED glasses avert chromatic aberration thus reducing color fringing and consecutively facilitating a faultless image for the eyes.

Thanks to these binos, we can safely say that a completely new spectrum of colors while bird watching has been onset!

Use of BAK4 Prisms
The use of BAK4 prisms in the manufacturing of the Polaris Optics along with its affordability factor has made it stand out as the best binoculars in the market. The view from this piece is crystal clear! So we are presuming that the manufactures clearly knew what they were claiming when they said HD optics!
Offers Wide Field of View
The field of view means the area which is covered by the binoculars as you look through them. Polaris Optics SkyView offers a wide field of visibility; up to 393 feet and that too at a distance of 1000 yards. This is made possible with the help of the front lens which is about 42 millimeters.

The lens also promotes a brighter sight of the object thus enabling you to see what you otherwise cannot from any other regular bino pair!

Money-Back Guarantee
Yes, you read it right. These binoculars come with a money-back guarantee. If you feel that the binoculars are unable to provide you with the most magnificent bird watching experience, you can ask for a refund.

But take us on our word when we say that you are going to love this bird-watching gear! With this purchase, you can be assured to upgrade your bird watching feels.

Highlighted Features
The weight of these binoculars is only 1.6 pounds. Light enough to catch all the beautiful views!
The dimension of these binoculars is 6x5x2 inches which makes it a compact buy.
These binoculars offer Ultra HD magnification of up to 8x42.
DuraTech Technology.
Close Focus.
Portable.
Durable.
2. Vortex Optics Diamondback Roof Prism Binoculars
The old Vortex Optics Diamondback Roof Prism Binoculars had undergone a complete redesign only to make a comeback this year. The reason behind this makeover was to enhance the overall handling experience and to let the fresh look make it more appealing to its users. Though the style of this version of binoculars is in vogue, the price is still under $200.

The binoculars are equipped with an amplified functionality and optical system. This pair of transformed binos can be handled with ease as it is 3 ounces lighter in weight than the original Diamondback. Thanks to these countless augmented features, we would qualify them as one of the best birding binoculars of 2020.

Whether you are an amateur or experienced bird watcher, this will be your best, in-budget buy.
Multi-Coated Lenses
These binoculars come with an enriched multi-coated lens assured to make viewing easier without any usual distortions. The dielectric and fully multi-coated lenses also make low-light performances very interesting and superior.
Roof Prism Binoculars
These binoculars have derived the name of roof prism because of the roof prism technology used in their manufacturing. Roof prism surges the resolution and contrast color quality with the help of correction coating. The new formula tends to get the best from these binoculars.
The use of argon gas in these binoculars not only makes them fog-free but also averts the possibility of moisture and dust build-up. This, in turn, saves the binocular from internal or external debris collection. Thus constituting it is as super reliable equipment in almost every kind of environment.
Refined Focus Knob
The new design of these binoculars is imbibed with a focus knob. With this upgrade, you can wave goodbye to unclear and out of focus captures. No binoculars can be considered as a perfect pick unless they serve with the best focusing ability.
Well, isn't it this gear too good to be true for the price?
Highlighted Features
The weight of the binoculars is only 0.5 lbs
The dimensions are about 2x6x5 inches
Magnification is about 10x
Objective Lens Diameter 42 millimeters
Eye Relief 15 millimeters
Exit Pupil Dimension 4.2 millimeters
3. Celestron 72022 SkyMaster DX 8x56 Binoculars
The Celestron 72022 Skymaster DX 8x56 Binoculars is another unparalleled piece available for under $200. Many users claim them to be the best birding binoculars available for under $200. But we can vouch that they are equally remarkable for astronomical or terrestrial viewing especially when weighed based on quality construction and the super lightweight body.
These binos are an un-regrettable pick for those who love to stroll visually, across anything distant. What makes us want to grab this binocular right away is that it comes with a very soft and stylish carrying case.

Extraordinary viewing quality and clarity in the picture without any usual distortions is what makes this binocular a preferred gear for astronomical sights. The internal specifications are built well to boost even low-light observation. With a price as low as $169.99, no sky, star or bird gazer would want to miss on it.

The Ultima DX series by Celestron is considered as the best series from the brand. Our favorite tool from this collection is the Celestron Nature dx 8x42. If you are someone who wears eyeglasses, this binocular will be your best friend for outdoor viewing!
Multi-Coated Optics
The multi-coated optics present in the Celestron 72022 Skymaster DX 8x56 Binoculars is one of its most eminent characteristics. The multi-coatings of optics make the viewing effortless thus attracting appreciation from its users. The demand for extended terrestrial viewing sessions is undoubtedly met with this binocular.
Waterproof Body
The waterproof body of these binoculars takes it's a notch further than it already is. This is because if one wants to engage in a breath-taking view, water disturbance generally proves to be the hurdle. The binocular hedges this setback, thanks to its robust and waterproof assembly.
Shock-Resisting
Yes, these binoculars come cushioned with rubber which makes them shock resistant. Still skeptical about the purchase? Let us tell you that shock resistance is one of the rare off features in binoculars and is available only with higher and costlier ranges.
If shock-resistant binoculars under $200 are what you are looking for, there is no device better than Celestron 72022 SkyMaster DX 8x56 Binoculars.
Highlighted Features
No-Fault Limited Lifetime Warranty
Binoculars weigh only 2.2 pounds
Binoculars Dimension is 4x9x10 inches
Magnification offered is 8x
Objective Lens Diameter is about 56 millimeters
Field of View is 304 feet
Exit Pupil Diameter of Binoculars is about 7 millimeters
4. ORION 09351 UltraView 10x50 Wide-Angle Binoculars
Binoculars are a versatile accessory. Be it for an expedition or as a gift to a binocular lover, The Orion UltraView 10x50 Wide-Angle Binoculars is a pertinent, elite and affordable choice for both.
These binoculars are user-friendly, which makes them a popular pick amongst all categories of end-users.
The binoculars are designed to meet the specific demands of people who peculiarly looking for the best compact binoculars for the money. These binos are not only guzzled with some remarkable features but their built is highly durable and sturdy. Believe us when we say that spending money on these binoculars is worth every penny.
The binos render a sharp image quality. The quality is so good that people often find it hard to gauge the object's distance. When ORION 09351 UltraView 10x50 Wide-Angle Binoculars is compared to other expensive binoculars, one can easily witness the uncanny similarities along with some augmented features.
Offers the best eye relief
Eye relief is one of the most praised features of this binocular. It can get really hard at times to observe from the binoculars if you wear eyeglasses. With a 20mm extra long and luxurious eye support, these binoculars have got that problem covered for you.
No need to worry while wanting to watch some views or exposing your face towards the sun as these binoculars are sunglass and glass friendly! One gear, dual benefits!
Cast-Metal Alloy Body
For the times when you are out unwinding in the fields, do not let gripping be an issue. In-built with a rugged cast-metal alloy body and rubber-armored grip, this binocular is for rough and tough users whose passion lies in exploring unruled areas! The body is so fine that it looks attractive to every eye.
Lens Caps
Being equipped with lens cap, considerably protects the binos from dust, water splashes and fog. The lens cap proves to be of great utility as protecting the lens inevitably means longer durability of the product.
Deluxe Wide Neck Strap
Do not underestimate the power of a wide neck strap while carrying around the binoculars. We know that it can be quite irritating and difficult to handhold the binoculars all the time. It also comes at a risk of getting misplaced.
Therefore, binoculars must have a wide strap that can easily be put around the neck; the Orion Ultra-View binoculars have sorted out this problem for you as they come with a deluxe wide neck strap which makes the handling as smooth as butter.
Highlighted Features
The dimensions 7.1x6x2.5 inches
Magnification offered is 10x
Objective Lens Diameter 50 millimeters
Weight of binoculars is only 2lbs
A decade long warranty
5. Night Owl-Xgen 2.1x Digital Night Vision Viewer
As the name suggests, Night Owl-Xgen 2.1x Digital Night Vision Viewer is superlative for night use. With unsurpassed night clarity, being lightweight and portable in nature, these binoculars are synonymous as the best hunting binoculars available for under $200. If you doubt our statement, you will surely agree with us affirmatively, once we layout its features.
Let us give you another reason to love Christmas. With the festive sales hitting the stores, you can find the binos at a bargain-basement price. Yes, we mean the sale and yes, we mean that you will be saving a bomb by purchasing it when the Christmas bells ring.
Unique Design
The design of these binoculars is unique from the other typical binoculars. The quite appearance makes the product interesting too.
Built-in Infrared Illuminator
No, we are not kidding and you do not need binoculars to read this! Night Owl-Xgen 2.1x Digital Night Vision Viewer has a built-in infrared illuminator that enables the user to view up to 70 yards. The ability to see from such a massive distance is a plus point of this gear.
Once the user gets used to these binoculars, the view can get clearer, if handled adeptly.
Can be used for hunting at night
If you dig in hunting or simply reveling in the night animal safari experience, you can bump up this encounter by having a pair of these binos by your side. With intensified views and excellent night vision clarity, this is a must-have hunting partner.
Highlighted Features
Lens Diameter is 20mm
Magnification is 2.1x
Portable and lightweight
Range of View from as far as 200ft is approximate 40ft
No wire attachment needed
6. Vortex Optics Crossfire Roof Prism Binoculars
If a simplistic design with powerful performance is what you are looking for, then there can be nothing better than the Vortex Optics Crossfire Roof Prism Binoculars.
Professionals have reviewed it as one of the best prism Binocular currently available. It is available in 4 magnification variations 10x42, 10x50, 12x50 and 8x42.
Crossfire Prism Lense
The crossfire series has a better image transmission due to the multiple anti-reflective coating on the glass. The glass used by Vortex Optics is designed with a higher refractive index than usual, thus reducing image aberrations. The objective lens diameter is 42mm, which helps in improving optical clarity.
Adjustable eyecups for better comfort during extended wear
Perfect for individuals who wear eyeglasses, the Vortex Crossfire series can be adjusted by simply twisting the eyecups.
The crossfire series has the lens placed with Interpupillary distance ranging between 56 mm to 76 mm. This allows smooth adjustments of the eyecups without interrupting the view flow. The focus wheel is placed centrally between the barrels of the binocular making it easy to adjust the magnifications.
Extremely convenient for a long-distance view
The diopter is located under the right eyepiece making it easy to adjust the clarity without much hassle. The rubber coat not only protects the binocular from moisture and dust but also provides a stable anti-slip grip for the binocular.
Mountable on cars or any other terrain, the binoculars are fitted with a universal tripod adapter. This makes it usable on all grounds and areas quickly.
The points, as mentioned earlier, prove that Vortex Optics Crossfire Roof Prism Binoculars has been created with the sole purpose of a dominant performance. Priced at 189.99$, the Vortex Optics Crossfire Roof Prism Binoculars is perfect for any and every situation.
Highlighted Features
Lightweight with stylish and minimalist design for better overall appeal.
Fogproof lenses perfect for use in a humid and moist condition.
10x Optical magnification for sharper image clarity.
An objective lens with a 9.8 ft minimum focal length.
Sleek design with a complete rubber molded body.
24/7 customer service with a lifetime warranty of repair and replacement.
7. Nikon 8252 ACULON A211 10-22x50 Zoom Binocular
Nikon is a brand name known for manufacturing high-quality products. Nikon 8252 ACULON A211 10-22x50 Zoom Binocular (Black) is one of the latest innovations under their belt that is packed with features.
Multi-coated glass lenses
The eco glass lens has a multi-coating refractive 10X magnification lens with 8.6 mm eye relief. This provides a sharper clarity to the images being transmitted with a filed view of 199 ft. Since the eyepiece lenses are aspherical, this removes any significant spherical aberration from the transmission.
10x22 full zoom magnification projects a wider image even at a lower magnification range. At higher magnification, this provides very distinctive and more precise imagery.
No-fault replacement/repair
For better quality assurance, Nikon has a lifetime replacement/repair facility available. Even if the product or its parts are not under warranty protection, the company ensures that customers can keep using the product with great satisfaction.
The replacement/ repair is carried out at various Nikon outlets spread globally. However, the replacement/repair option is not valid for stolen goods.
Full-body rubber coating
The Nikon 8252 ACULON A211 10-22x50 Zoom Binocular has a full-body armoring with Rubber. Rubber provides extra added friction for a better grip. As Rubber is a natural waterproofing agent, the binocular thus has an added protection for moisture.
The non-slip body, along with complete waterproofing makes the Nikon binocular suitable for outdoor viewing in every kind of weather and terrain.
It is rare to find an equally affordable quality product. Priced at 155.96$, the Nikon 8252 ACULON A211 10-22x50 Zoom Binocular has some of the best-known features integrated into its stylish all-black design.
Highlighted Features
Larger 50 mm objective lenses diameter for a better and broader view.
Anti-reflection multi-coated optics with BAK 4 lense of high refractive index transmits crystal clear and sharper images.
10x magnification lens gives a 200 ft field view.
Inbuilt Tripod adapter with fingertip zooming for better handling.
8.6 mm of Eye Relief with rubber eyecups for more extended comfortable usage.
8. Celestron – SkyMaster 20X80 Astro Binoculars
Celestron – SkyMaster 20X80 Astro Binoculars – Astronomy Binoculars has been one of the top-rated choices among Astro Binoculars since its launch. The model has an effortless yet stylishly sleek design, thus giving it a very sophisticated appeal.
Nominally priced at just 102.40 $, it is way more powerful than any other binoculars available at this price. The add on features included in the binocular are quite an exciting blend of the spectrum, thus increasing its demand further.
Sharper viewing
Perfect for dim light viewing, the Celestron – SkyMaster 20X80 is used explicitly by Astronomy enthusiasts who love stargazing. The BAK 4 prism lens with its multi-coated optics helps in projecting brighter and sharper images.
The soft rubber eyecups promote comfortable long time viewing. It also blocks out stray lights, thus giving better image clarity.
Safe and Stylish
Celestron – SkyMaster 20X80 has been designed with a sleek and dark outer appearance. This makes it ideal for camouflage situations besides being comfortable to hold.
The body has a rubber coating to provide waterproofing and a better and more stable grip. This makes the binocular usable in dry and wet conditions without much hindrance.
Powerful Magnification
It has an average magnification of 20x, which transmits sharper images. The linear field view of 195 ft and Close focus view of 108 ft further enhances the viewing clarity.
Celestron – SkyMaster 20X80 is undoubtedly one of the best Astro Binoculars one can get at such a great price!
Highlighted Features
Has Porro Prism lens with a 20X magnification.
Excellent focus with Diopter adjustment.
Better body grip due to rubber coat on the body of the Binocular.
108 meter closed focus range.
18mm Eye Relief which is longer than most binoculars.
Lifetime warranty.
Fitted with integrated tripod adapter for better stability.
Perfect for astronomical and terrestrial viewing.
A guide to choosing the best Binoculars under 200 Dollars

Aforesaid, it is not an easy job to get your hands on binoculars that are high on quality, yet low on price. The task can seem even harder if you are a beginner in the field of spectating.
Whether you are a novice or something looking to upgrade their existing pair without shelling out a bomb, locking on to the listed criteria can aid you to find a befitting binocular.
Before you proceed, start with asking yourself:
What is your maximum budget?
What is the purpose of your purchase? (Bird watching, sky gazing, astronomical, etc.)
If you are looking for any specific feature. (water/dust resistance, lens coating, etc.)
Once you know the answers, weigh your options on the attributes below.
Both the structure and the form of binoculars play a really important role in predicting the endurance of any product, binoculars in this case. Search carefully for a binocular with a rugged outer built, made with good quality material. Doing so will ensure that you have a good product in hand at the end of the day.
The magnification of binoculars is another feature to keep in mind while looking for binoculars. It is perceived that relatively cheap binoculars come with mediocre magnification. We protest it.

If you find the right brand and product; in line with your purpose of use, impeccable magnification shouldn't be a problematic arena. Do not take this requisite lightly, as binoculars with very little magnification generally end up being useless for the buyer. The ideal magnification of binoculars is between 7x-12x.

Basically, depending on how large the field of view a binocular offers, you'll be able to see an equally large area through it. No one would desire to invest in cheap binoculars in return for a very limited view being offered. Take a wise pick when on a binocular quest.
If you are a person who wears glasses, this feature must be your priority. Before you decide on purchasing a pair of binoculars under $200, make sure that it has provision for eyecups. Eyecups are generally detachable and are highly accommodating for spectacle or sunglass wearers thus promoting an uncompromised watch any time, anywhere.
Nobody would like to carry around binoculars that are bulky in nature. To make the most of your bird watching or sky gazing experience, understand the weight and size parameter before buying a pair of binos. A compact binocular with a wide neck strap for ultimate comfort is not a rare find under 200$. When it comes to binoculars, remember, size matters!
Best Binoculars Under 200$ (FAQ)
Question: What can do the 'Standard Porro Prism Binoculars?
Answer: These binoculars generally have a 35mm objective lens or more. The lens is enough wide for transmission of lights. As a result, these binoculars can create a brighter, clear and better image of an object. These binoculars are used for high-resolution purposes like sporting events, wild animal observation, viewing of birds.
Question: What are the advantages of 'Standard Waterproof and Porro Prism Binoculars'?
Answer: For prolonged durability of a binocular, it is essential to protect the lens- which is the heart of a binocular from dust, fog, moisture, and water. Amongst these elements, water is one of the most common threats thus creating an upper hand and preference for a waterproof binocular.

On the other hand, most binocular professionals depend on Porro Prism binoculars when they indulge in the high-resolution study. The primary reason is that Porro Prism Binoculars are committed to producing paramount image quality that is radiant and clear than water.

Question: What's the difference between BAK4 and BK-7 prisms?
Answer: Both of them are standard quality prisms. Their job as the reflective coating is to refract light to bring the object in your eyes. When compared with each other, BAK4 prisms are made with a high-end glass promoting sharp, edgy images, whereas BK-7 delivers only a satisfactory view.
Question: What is 'phase-coatings'?
Answer: This is the special type of coating which is applied on the roof prism binoculars. This technology is used to re-merge the light of two paths which are divided into two beams to generate the best quality image. You find this feature (Phase-coating) in any expensive roof prism binoculars.
Question: What is the 'Near Focus' for?
Answer: Near focus means close distance image but without compromising on an extremely sharp and clear view. The recommended near focus for binoculars for a high-resolution study such as birding is 15 feet or less.
Question: What do all the initials in your binocular descriptions stand for?

Answer:
Close focus: Ability to make a sharp image at the nearest (2-4 meters) focus point.
CF: Stand for central focus but it also stands for close focus sometimes.
B: It means suitable for glass wearers.
WP: Waterproof.
RA/GA/G: It means rubber-armed which also denotes that they are safe against scrapes and knocks.
WW/WF/W: It indicates a wide-angle that means these binoculars have a wide field of view.
D: Roof prism
UC: Ultra-compact. These binoculars are lightweight and compact.
IS: Image stabilizer.
HP: High eyepoint. Usually, these binoculars with this specification have a large exit pupil.
Question: What is the best binocular for my ocean-front home?
Answer: As you will be using the binoculars for seeing natural panoramic beauty, you will unquestionably need high-resolution binoculars. So, choose a binocular with a high magnification power.
Question: How do I mount my binoculars to a tripod?
Answer: Arrange all the necessary items like a washer, wingnut, thumb screw, and metal bar. Then, blend the metal bar to the right angle. Find your binocular mount point and set the binocular to the metal bar. Finally, attach the metal bar to your tripod with a screw. It is as simple as ABC!
Question: Which eye cups are the best?
Answer: As the eyecups stay close to the eyes, they need to be soft. Rubber eyecups are best. You can detach them whenever needed.
Question: Are there binoculars that are designed for both day and night observations?
Answer: Yes of course. You can find many binoculars in the market that can be used in all lighting conditions- low, medium and regular.
With the emergence of camera phones and cutting edge photography equipment, people have forgotten the utility of having a set of binoculars by their side. Remember that the camera only offers a part of the actual colossal view as it lacks a field of view and magnification, unlike binos. Whether you are journeying through the wild or simply wish that you could fly to see the birds do so, a pair of binoculars can give a close-up view of what you'd like to see, still or moving.
It is never too late to let yourself drown in the subtleties of your environment. With features like compactness, glass-friendly nature, dust/water/fog-resistance and ultra zoom in available under $200, investing in a binocular simply means investing in life-changing experiences!