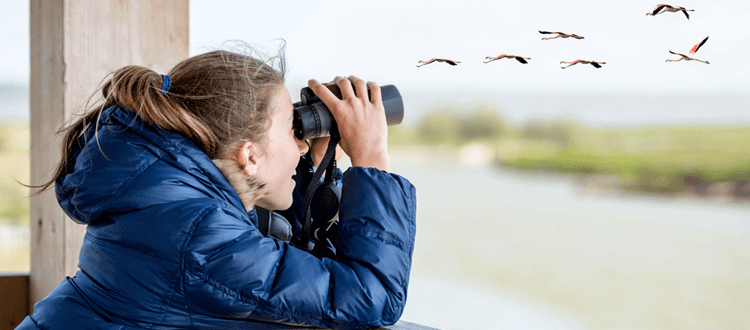 A Rookie's Guide for the Best Binoculars for Birding {Budget to Premium}
Last Updated on
Birding might be a favorite hobby of yours, and a birding binocular is the go-to optic tool for you. But to be frank, birding with a binocular is a way harder job than watching elephants on an African Safari.
And why do we do that? We will explain.
First of all, birders need more in a binocular as they need to focus on moving objects. The magnification should be at least as good as 7x, 8x or 10x. You can go for even more, but the problem with that is the stability.
With a 20x binocular, you may watch the bird from a closer viewpoint, but every shake of your hands will also be 20x magnified. So, the higher the magnification, the narrower the field of view.
Secondly, it's the objective diameter. The larger the objective lens is, the more light it can gather. Sounds good so far. But when you'll be carrying one such binocular, it will come with heavier lenses. After hours of hiking and birding, this weight will cause an impression on your neck and shoulder.
And there are more of such factors that need to be considered on a serious basis.
So, once again, finding the best binocular for birding is a hard nut to crack.
Don't give up yet. Go through the article below where we've demonstrated best of the birding bino models and explained every good and bad they'll come with.
Before you start, here are our top picks-
Product Comparison Table of Best Binoculars for Birding
Top 5 Hand-picked Birding Binoculars
This handheld fixed-magnification optic that is designed with multi coated aspherical lenses and an ergonomic housing is among the best birding binoculars out there on the market. The Nikon 8245 ACULON A211 8 x 42 Binocular is perfect for those looking for extremely versatile, high quality, and economically priced optics. With a 42mm objectives compact design, these binoculars deliver a slightly higher mid-range magnification.
Product Overview
They are light enough to be carried with ease to any outing or event, and they comfortably facilitate a wide field of view. Built to last with eco-safe components and designed to perform in a variety of conditions, these binoculars ensure that you are even brought closer to the action and give you an incredible experience you will hardly forget.
These new arrival binoculars is a sculpted rubber-armored housing that is designed to fit comfortably into the viewer's hand and to provide non-slip handling. Grooved ridges atop the housing and generously-sized focusing wheel enable adjustments to the inter-pupillary distance and the point of focus even while wearing gloves.
The turn-and-slide eyecups feature of these binoculars allow quick re-setting of the eye relief. The combination of image quality and use-friendly design make the Nikon 8245 ACULON A211 8 x 42 Binocular a cost-effective option for intermediate to long-range glassing.
Comes in black or real tree Extra Green camouflage. Measuring 8.1 x 4.1 x 4.1 inches. Weight is 2.4 pounds. Exit pupil 5.3mm; FOV 420 feet; magnification 8x; objective lens diameter 42mm;
2. Celestron 71346 Outland X 8x42 Binocular (Black).
This powerful binocular that was designed to meet the need of birders and every other outdoor enthusiasts is without any argument one of the best birding binoculars. The optics are multi-coated to obtain high resolution contrast views. the prism are made of BAK-4 glass that gives you an enhanced color fidelity.
Product Overview
The rubber covered Celestron 71346 Outland X 8x42 Binocular allows for a rough and tough handling and they are waterproof and fogproof and are nitrogen purged, which allows them to be used in all weather environments. Large focus knobs make for easy and precise focusing and twist-up eyecups allow for quick adjustments of eye relief to have the full field of view. It also affords comfort while usage by any viewer whether eyeglass wearers and non-wearer.
The image quality of these binoculars has been greatly improved through a combination of several design innovations. The multiple layers of coating on the lenses usually improve brightness and contrast in all weather scenarios.
Ready to use comfortable straps are pre-attached to the binoculars. There is likewise a moisture resistant neoprene carrying case and neck strap. The objective lens covers are semi-attached to secure them from getting lost on the 42mm sizes. Included on the 42mm sizes is the tripod adapter thread. All of the items stated above come in a lightweight, ergonomic design for maximum comfort.
Black colored; magnification 8x; exit pupil diameter is 5.3mm; Objective lens diameter 42mm; dimension of 8 x 3 x 7 inches; weighs 1.98 pounds; a 2-year manufacturer warranty.
3. Bushnell PowerView Super High-Powered Surveillance Binoculars.
When it comes to binoculars for outdoor activities, Bushnell products are among the best. If you are a birdwatcher, the Bushnell PowerView Super High-Powered Surveillance Binoculars is one of the best birding binoculars your money can buy.
Product Overview
Designed with a non-slip rubber which contains excellent optics. These optics are just perfect for wet environments because they offer armor and a firm grip that are responsible for cushioning the day to day bumps as well as shocks. Additionally they have a twist-down eyecups which are specifically designed for people who wear sunglasses or eyeglasses.
These binoculars employ BK7 type of glass lenses. The lenses are fully multi-coated. This results in a crisp clear image with minimal color aberrations and high contrast. There is in addition a tethered lens cap for additional protection. These binoculars are compact and lightweight. Focusing with these binoculars is effortless.
Porro-prism binocular with 20x magnification and 50mm objective lens diameter. Multi Coated optics that guarantee superior light transmission and brightness. Patented one touch insta focus system holds your subject in sharp focus. A 45-foot close focusing distance; 170-feet field of view at 1000 yards; weighs 30 ounces. Dimension of 8.5 x 8.2 x 3.5 inches. A lifetime manufacturer warranty thus guaranteeing customer satisfaction.
4. Bushnell H2O Waterproof/Fogproof Porro Prism Binocular.
Another great product from Bushnell industry. The best birding binoculars are manufactured by the Bushnell industry.
Product Overview
The Bushnell H2O Waterproof/Fogproof Porro Prism Binocular delivers a fogproof housing and rubber armor textured with soft ridges to maintain grip. features that make the binocular rugged to be used in any weather condition and any rough environment. This porro prism binocular offers less light loss and greater depth of field than comparable roof prism designs.
A multi-coated lens system and high transmission BAK4 prism glass allow these weather-sealed glasses display clear and bright images that are crisp with detail. A 100% waterproof, O-ring sealed and nitrogen purged for reliable, fog-free performance.
Magnification of 8x and 42mm objective diameter; 18-foot close focus distance; 17mm eye relief; apparent viewing angle 62.5 degrees. A large center-focus knob for easy adjustments; Twist-up eyecups for comfortable viewing of any user. Box dimension: 9.4 x 9.1 x 3.3 (LxWxH); available in many sizes. Weight is 27.2 oz. A lifetime warranty that guarantees user's satisfaction.
Now that you are prepared to buy your outdoor binoculars, it is important that you put certain thing into consideration before making your purchase.
5. Vortex Optics Diamondback 10x42 Roof Prism Binocular.
The Vortex Optics Diamondback 10x42 Roof Prism Binocular comes with fully multi-coated lenses and phase-coated prisms to maximize on light transmission improving contrast and resolution. Included with multiple anti-reflective coatings an all air-to-glass surfaces, even under dim light conditions the vortex achieve a brighter view of the object. Making it one of the best birding binoculars.
Product Overview
The phase correction coating on roof prism produces a high quality image in the way of enhancing contrast and improving resolution.
A 10x magnification power and a center focus wheel that lets you easily adjust and the focus. Both barrels turn at the same time for easy adjustment. Your subjects are brought to a close view and their movements followed easily. Close focus offers a more detailed view of the image.
Made compact yet durable. The firm and sturdy body of this optic offers protection from damage. It is designed compact and lightweight so it does not weigh you down while carrying it. Roof prisms bring about a much admired streamlined outlook and a compact size. Making it a combination of beauty and strength. It is also made with a rubberized armor the ensures a non-slip grip.
The Vortex Optics Diamondback 10x42 Roof Prism Binocular also features a waterproof and fogproof design to function in very harsh weathers. The argon gas used against nitrogen holds water proofing properties over a longer time and over a wide range of weather conditions. It comes with rain guard as well. Generally it will perform optimally in any condition of lighting and of elements.
With a twist-up eyecups this model of binoculars is able to accommodate both eyeglass and non-eyeglass wearers. The eyecups are adjustable. It is adjusted by simply twisting either upwards or downwards. The multi-position eyecup feature also ensures a comfortable view for any user whether eyeglass wearer or non-wearer. Eyeglass wearers twist the eyecups downwards while non-wearers twist it upwards you maximize each users field of view.
What Makes Best Birding Binocular
Field Of View
If it is a birding binoculars, the wider the field of view the better. The birding binoculars are the ones with a wide field of view.
Durability
Bird watching being an outdoor activity. these binoculars are the ones that can stand the harsh environments and still deliver for years to come.
Size And Weight
When it comes to binoculars, the bigger is not usually the better, and if it is for birding, the more compact and lighter the better. Birding is an activity that involves holding your optics hours. A bulky and heavy binocular will not be regarded as great birding binocular.
Focusing Wheel
This type of binoculars should have a great focusing speed with ease. Since birds usually do not stay still and are moving fast, the speed at which you can focus the binoculars to your target is of much importance.
Fog And Waterproof
The best birding binoculars like other quality binoculars can be used in any kind of weather whether good or bad.
Things To Be Considered Before Buying A Birding Binoculars
Performance
This is measured by the degree of magnification or power. Magnifications are usually indicated by numbers on the binocular like 6x, 8x, 7x, etc. The ideal numbers for birding binoculars is between 6x - 10x.
Coating
The quality and type of coating on a binocular determines the brightness and light gathering of that binocular. The higher the quality of coating the more there will be light gathering.
Field Of View (FOV)
This covers the area within the circular viewing. It is determined by the area that is visible at 1000 yards.
Eye Relief
If a binocular is placed before the eyes, the distance from the eyes to the lens should be considered by how the full view is still presented.
Auto-Focus
This feature is important in a birding binocular since birds do not stay still. The auto-focus helps to capture the moving bird fast enough without a manual adjustment by the user.
Eyecups
This allows a user to comfortably use a binocular with or without wearing eyeglasses or sunglasses.
Prism Quality
There are two types of prism design: the BAK4 and BAK7. The Bak4 appears to have a higher glass density which many see as an advantage over BAK7. Though this is not a general application.
Tripod Adaptable
In some positions you may not be comfortable to hold a binocular in your hands. Then you need to mount it on a tripod stand. So a birding binocular should be tripod adaptable.
Frequently Asked Questions (FAQ)
Question: What is the best magnification for binoculars for bird watching?
Answer: Generally, 6x to 10x magnification is the ideal choice for most of the people. When you use it for watching birds, it needs 10x magnification or more.
Question: What to look for when buying binoculars for bird watching?
Answer: When you go for buying a binocular that you will use it for watching birds, some of the features must need to look. The features determine the quality of a binocular in fact. You should look size, weight, the field of view, magnification power, focusing wheel, and fog & waterproof property.
Question: What types of binoculars are best for bird watching?
Answer: Bird watching binoculars require especially high magnification power, wide field of view, and fast moving magnification wheel. Binoculars having these features are the best for bird watching.
Question: What is the eye relief binocular?
Answer: In simple words, eye relief means the maximum distance between your eye and last surface of an eyepiece. You should set eyes to the eyepieces within this distance and then you will see the full view. If your eyes are outside from the distance, field of view will be decreased.
Question: What are the coatings?
Answer: Coating is a special type of chemical layer on the lens. When a large amount of lights fall on the lens, it reflects off. As a result, some light cannot pass through the lens that decreases image quality. The coating is made on the lens to improve the light transmission capacity.
Question: What are multi-coated optics?
Answer: If more than one layer chemical coating is deposited on the lens surface then it is called multi-coated optics. Multi-coated optics are the best for enough light transmission through the lens.
Question: What are fully multi-coated optics?
Answer: Fully multi-coated optics means all the lenses of a binocular are multi-coated. This type of binocular allows to loss of a low percentage of light that is less than 8%. Multi-coatings also reduce internal reflection and glare.
Question: Does the color of fully multi-coated optics matter?
Answer: You will find different color lens depending on coatings. Some are green, blue, and may another color. But, be aware you are not going to buy the ruby colored lens. Ruby colored lens does not always indicate superior quality lenses.
Question: What is Field-of-View (FOV)?
Answer: Field of view is nothing but the width of an image. This feature determines the width of the area that can be seen through an optic.
Question: Should I buy huge objective sizes?
Answer: It depends on your needs and obviously some important factors. When you choose a wide objective lens, it becomes larger as well as heavier too. On the other hand, if you need to see low light view then you should choose a wide objective lens as it can gather huge lights and able to make a brighter image.
A birdwatcher can easily be discouraged from the hobby, labeling it as not interesting. This happens in most cases where the optics does not perform to expectation. But now with this information at your fingertips I believe that you will make a right choice of a birding binoculars having come to know how to get the best birding binoculars on the market.
We will not forget to mention here that budget may still play a very crucial role in your choice of a binocular. However with enough information you can still get the best that fall within the range of your budget.
Understanding Magnification on Binoculars