Celestron Outland X 8×42 Binocular Review
The Celestron optical company is popularly known for its wide range of telescopes that it first produced in 1960. Since then, the company has grown to become one of the leading manufacturers of telescopes and binoculars worldwide.
The Celestron 71346 Outland X 8×42 Binocular is one of the company's leading products, which has been specifically designed to meet the need of users in a wide range of environments. It is an all-weather product well suited for rugged and unfriendly environmental conditions.
This binocular model was designed to meet the needs of every outdoor enthusiast, from bird watchers and hunters to travelers and sports fans. They are multicoated optics that offer high-resolution and high-contrast views.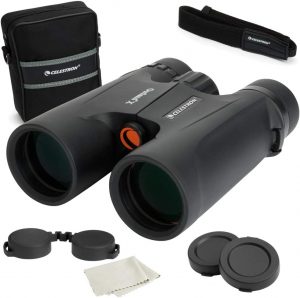 Who Is This Product Designed For?
Hunters.
Stargazers.
Nature Enthusiast.
Outdoor & Indoor Events.
Features
Multicoated Optics – The image quality of this binocular has dramatically improved through several design innovations. The layers of coating on the lenses enhance the brightness and contrast even in harsh and unfriendly weather conditions.
Twist Up Eyecups – The protective rubber covering on the Celestron 71346 Outland X 8×42 binoculars makes it comfortable whenever you use it. The unique design with eyecups is specially designed to adjust eye relief fast and easily. This helps the user to obtain a wider field of view. The eye relief specification is 0.55 inches (14mm). This also helps to accommodate anyone wearing an eyeglass to view.
Focus Knob – This focus knob of the Celestron 71346 Outland X 8×42 Binocular has no slack. This makes it provide the correct amount of resistance required while using it. The surface of the knob is also made of rubber, profoundly grooved and soft. You will be taken through the whole focus range by making a three-quarter turn of the knob.
Waterproof And Fogproof – The binocular housing is nitrogen-purged water and fog proof, with smooth rubber armoring that ensures a non-slip grip. This feature allows you to use the optics in foggy or wet environments. Without any fear of water infiltration or slipping from your grip.
Bak4 Prism Glass – A feature synonymous with high-quality binoculars. The bak4 prism lenses offer enhanced color fidelity and high-resolution image clarity. This feature usually contributes to the high cost of binoculars.
Pros
The optics is lightweight, making it easy to carry around.
It provides crystal clear and high-quality images.
It can be carried with a strap or carrying case while in use.
It can be used in any weather condition.
The protective rubber covering is an added security.
Cons
The eyecups are a bit stiff.
Frequently Asked Questions
Q: What is the weight of the binoculars?
A: The Celestron 71346 Outland X 8×42 Binocular weighs around 1 pound.
Q: Is the binocular ideal for glass wearers?
A: Yes, binoculars can be used by people who wear eyeglasses.
Read also: Best Compact Binoculars That are Bang For The Bucks
Final Verdict
From the above description and reviews, you will come to the final conclusion that the Celestron 71346 Outland X 8×42 Binocular was designed to fulfill the requirements of most outdoor and indoor event enthusiasts.
The multicoated design of the optic offers high-resolution and distinction views. And the prism square made from the Bak4 glass delivers an increased color fidelity. And the many other features which ensure your comfort and excellent performance while using it.
It will then be your prudent decision to settle for the best binoculars money can buy. The Celestron 71346 Outland X 8×42 Binocular is your best option.