Beauty Against the Beasts: Caroline Pruitt
The hunting industry has got the hottest women who never missed the target. Hunters say that animals in the jungle only can survive if Caroline Pruitt let it pass. She is born to kill the target. The size of the game doesn't matter, if she pulls the trigger, most likely that bullet will rip through the target's heart.
"I don't wear bows. I shoot them." Only a pro hunter can say like that.
At the age of 12, her ability showed through an African game with her dad. Who knew Caroline Pruitt will hunt down 9 animals where 7 of them killed by one chance. 'Oh,' What a start? She didn't stop there.
Just after 2 years, she earned the youngest hunter award at "2010 International Safari Club and Cabela". Around the world, only two are picked each year. This honor is the most popular and tribute likes "World Rugby Player of the Year". The petite teenager gave a warm speech at the ceremony which was held in Reno, Nevada.
She said, "I try to reach to the animal as much as possible since it's really fair to them." She also explained the logic. It's not for the lack of ability rather showing them respect for which you are up to. "I truly work hard for every buck," she told.
Besides killing, her love splashes when she shows her care towards Jeb, her favorite horse which died accidentally. Still, she cries when she recalls the name. She evoked "The bear I kill are dominant males which actually kill and eat cubs themselves so the female comes back in heat. That's what I do and it's worked pretty well for me".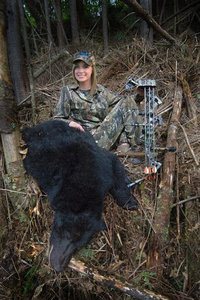 Pruitt's mother Lori said "She's gifted. She must get the opportunity to show the world what she can bring to the hunting industry". Her style and approaches have already become trends for many pro hunters. So, we had to make the sacrifices! Caroline's mother said.
At such young age, she already traveled lots of countries. New Zealand, Africa, Zimbabwe, Colombia, and Argentina are on the list. Besides shooting, traveling is her hobby. In 2013 she was selected in 12 Finalists for the 2013 Prois Award.
Caroline scored 18 trophies in Safari Club International's (SCI) ranking when she was just 14 years. Now her most favorite weapon is a crossbow, but though she started with muzzle-loaders and hand-rifle.
In a big game in British Colombia, she shoots down a bear within a range of 20 feet. Pruitt was pretty scared and said, "I prayed to God as it marched to me". She already filled her curt with 50 animals in comparatively big games.
In another fixture, a rhino nearly killed Caroline even she had a tranquilizer gun in her hand. She recalled and said, "Oh, my God, if dad didn't pull me, I would have been injured badly; love you dad". For her father Kerry Pruitt's intellectuality and expertise, they manage to brush the animal with heavy ammo. "She could hardly forget that harsh condition" Pruitt's father adds to the statement.
Pruitt's Employment Status:
From 1st of February, this year she has started a new job in Mike Moses Middle School at Nacogdoches, Texas. Her last employment was as Educational Consultant/Tutor. She worked there for 11 months. As a great fighter, she never underestimated her education.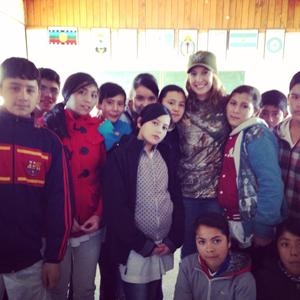 Within her study tenure in Stephen F. Austin State University, she bears all her expenses. Her hobby didn't disrupt her graduation course. To support her financial situation she worked in Meadow Ridge Archery and Gun, Auntie Pasta's, Insta Cash Pawn and Fredonia Hill Baptist Church.
Besides her regular job, she had been appointed as a marketing delegate in diverse hunting products and accessories. Throughout her career, she even worked for many reputed conglomerates including Bowtec bows. She was also interviewed by many media including famous Jim Shockey's TV show.
Aside from heroism, she has a real soft heart. In a village of Africa, she gave away all her meat for the hungry and homeless people. Only a brave girl with a golden heart can donate all her earnings of a game.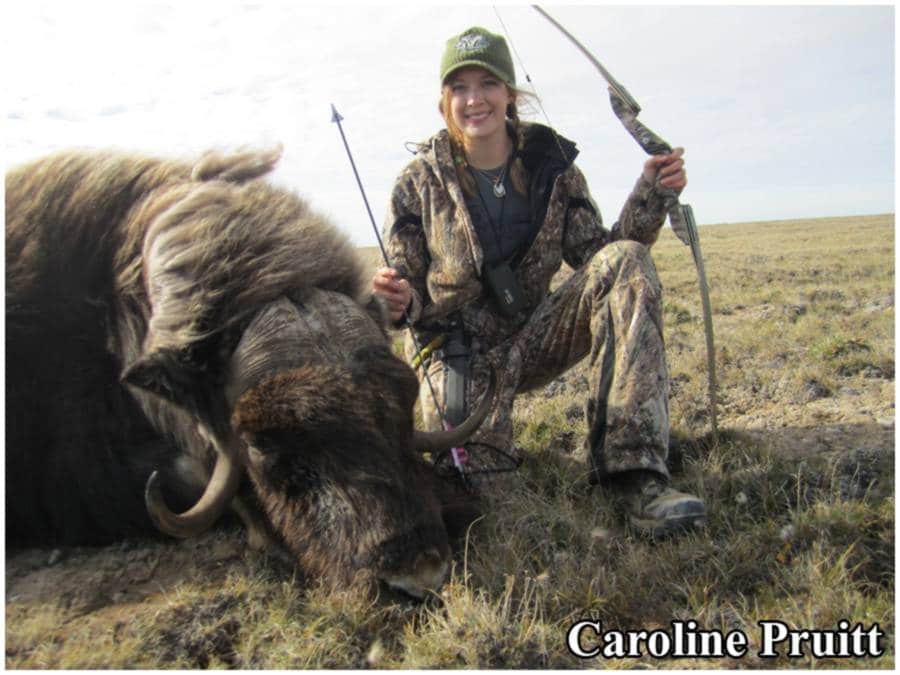 Many local and international news media featured her life stories including The Daily Sentinel. Pruitt proved that hunting is no more predominantly male's sport. "It really feels well to be recognized as a role model for a young girl," this outdoor enthusiast said.
This year on November 4th Pruitt will turn into 25th. A few days ago, Caroline declared her relationship status with, Preston Todd in social media. Todd is working as Produce Manager at H-E-B and hopefully, they're going to get married very soon. May God bless their new venture!