Bushnell Binoculars Tripod Adapter Reviews
Adapters are among the most commonly used binocular accessories, they enable you to attach your pair of binoculars to a tripod usually referred to as binocular tripod adapter or a binocular tripod mount.
It is obvious that the purpose of mounting your binoculars to a tripod adapter is to steady the image. This is because the binoculars are of a very high magnification or in some cases for people who have unsteady or shaky hands.
Some others also use a tripod for convenience freeing up their hands to do something else or if you would want your binoculars trained on a specific subject for a long period of time.
Whatever may be your purpose in seeking for a tripod adapter the Bushnell Binoculars Tripod Adapter, Black have you fully covered for it.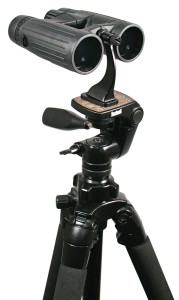 >>>Click Here to check price, features, specifications, reviews and more>>>
Features OF Bushnell Binoculars Tripod Adapter
Extensively Used And Tested 100% Quality Materials.
Beautiful Design And Durability – This tripod adapter is a combination of beauty and longevity.
Binocular Adapter for use with tripods or window mounts – It has a dual fitting usage, it can be used on tripods or window mount.
Fits Any Tripod-ready Binoculars – Unlike some other adapters the Bushnell Binoculars Tripod Adapter, Black is designed to fit any tripod-ready binoculars.
Ideal For Bird watching and nature viewing – It gives you a perfect stability when in use during prolonged observations.
Lightweight and portable – This tripod adapter is so light and portable that it can be conveniently carried about, and it is also travel-friendly.
Recommended for prolonged observation with binoculars of 10 x magnification or more.
Product Dimension is 4.4 x 1.2 x 6.9 inches, weighing 2.6 ounces. And a two-year limited warranty.
Overview
The Bushnell Binoculars Tripod Adapter is an accessory for mounting a tripod-ready binocular and is an essential piece of tool for optics that have the magnification greater than 10 x, as well as during long duration viewings like bird watching and other nature observations.
The adapter allows you to mount your binocular (pro or roof) using a 1/4 inch threaded bolt with a textured thumbscrew; and the adapter mounts to any standard tripod 1/4″-20 sockets.
Pros
Lightweight – The Bushnell Binoculars Tripod Adapter can be carried about conveniently as it is a lightweight tool.
Easy To Install – Installing the tripod stand is very easy and it fits most tripod-ready binoculars.
Good value – You have good value for your money purchasing the Bushnell Binoculars Tripod Adapter.
Black Color – The color of this tripod adapter makes a matching for most binoculars.
Sturdy – It light, sturdy and tough enough to support any binocular however heavy it may be.
>>>Click Here to check price, features, specifications, reviews and more>>>
Conclusion
Tripods are used as a platform for supporting weight and maintaining stability. However, without a good adapter mounting your binoculars on a tripod may still not meet your expectation. From the article above you would come to agree that the Bushnell Binoculars Tripod Adapter, Black. is the best option for a tripod adapter.
Therefore it will be your prudent decision to make the choice of going for one of the best adapter tools available on the market today.
To learn more about this product visit the Amazon store and to also read the customers reviews. If you are finding best budget binoculars then read our reviews about binoculars under 100.