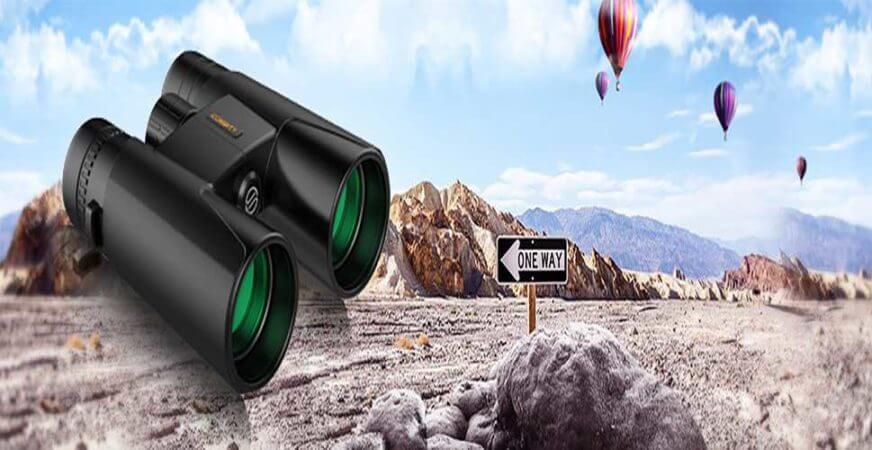 Best Binoculars Under $200 & $500 Dollars Reviews :: Buying Guide
There are many definitions available for Binoculars, which can be used to describe the instrument named binoculars. In simple words, they are used to view the distant objects with the help of lens present in them for the both of the eyes. These optical instruments give clear and better viewing experience to the user. Along with the lens, two tiny telescopes are fitted together side by side. It is very hard to find some affordable yet real good binoculars these days. This article will help you find some best binoculars under $200 & $500 but first, let's learn something more about the binoculars, especially its structure and development. One of the very important features of binoculars is the focusing mechanism which is performed with the help of a lens. As the name suggests, its function is to focus which later provides the user with a very clear and deep picture of the view.
The binoculars are specifically made with the help of two most important lens, named as the objective lens and the eyepiece lens. The objective lens is closer to the object, which one is looking at with the help of binoculars. The binoculars can be classified with the help of prism used in their making and are of two types, either known as a Roof prism or a Porro Prism. One of the main differences among these both types is the objective lens; The objective lens is placed a little more apart in the Porro Prism binoculars, making viewing much easier.
---
Comparison Chart Of Best Binoculars Under $200 & $500

---
A guide to choosing the best binoculars under 200 Dollars & 500 Dollars

As mentioned above, it is not an easy job to buy some really good binoculars at an affordable rate, especially if you are a beginner. The below-mentioned tips will somehow get you through this difficult situation.
Construction:

Both the structure and the construction of binoculars play a really important role in predicting the durability of any product such as of binoculars in this case. Mostly, the binoculars that are available in the market for under $200 might not have very good designs and construction. For this reason, one would have to search carefully for the durable binoculars in an affordable range.
Magnification:

The magnification of binoculars is another important feature too, which needs to be kept in mind while looking for a relatively cheap binoculars. This is because such binoculars might offer very less magnification, ending up being quite useless for the buyer.
View:

This feature is important because it covers the area available to be seen, which a set of binoculars will offer. No one would want some cheap binoculars in return of a very less view being offered.
Eye-Relief:

If you are a person who wears glasses, then this feature is quite important for you to consider because it enables you to look in the binoculars from some distance without torturing you.
Our Top Picks Binoculars Under $200 & $500

This section will include a list of some binoculars which are very durable and are also available for under $200.
1. Polaris Optics SkyView Ultra HD 8x42 Binoculars
The Polaris Optics SkyView Ultra HD 8x42 binoculars are certainly one of the most amazing and affordable. These binoculars are originally for 399.99, but you can buy them at 58% off, which makes them cost you for only $169.99. This offer is too good to ignore. These binoculars will enable the user to view every colour and every detail of the object.
Anything viewed with the Polaris Optics SkyView Ultra HD 8x42 binoculars will not only be high quality in the display but will be of the best quality. It will be very much safe to say that these binoculars can also be considered as the best birding binoculars of 2016. These binoculars will never disappoint you with their performance.
Bird Watching Binoculars With ED Glass
With these binoculars, the bird watching has been taken to the whole new level. The Ultra ED glasses enable the user to view each and every colour of the feather with the amazing clarity. It has been made possible with the introduction of the entirely new spectrum of colours, which has made the bird viewing so much interesting and addicting.
Use of BAK4 Prisms
The use of BAK4 prisms in the manufacturing of the Polaris Optics has made them one of the best binoculars that too in an affordable range. The view you get from seeing through these binoculars is crystal clear, without any doubt. They manufacturers meant it when they claimed the HD optics.
Offers Wide Field of View
Offers wide field of view means that the area which is covered by the binoculars, enabling the user to see it. These particular binoculars offer a wide field of view of up to 393 feet that too at a distance of 100 yards. This is made possible with the help of the front lens which is about 42 millimetres. This lens also helps in providing a much brighter view of the object which makes it a very important feature of these binoculars.
Money Back Guarantee
Yes, it is true. These binoculars come with money back guarantee only if these binoculars are unable to provide you with the most amazing bird watching experience. These binoculars claim to upgrade your bird watching expectations with the use of their upgraded features, tools and techniques.
Highlighted Features

The weight of these binoculars is only 1.6 pounds
The dimension of these binoculars is 6x5x2 inches
These binoculars offer Ultra HD magnification of up to 8x42
DuraTech Technology
Close Focus
Portable
Durable
2. Vortex Optics New 2016 Diamondback 10x42 Roof Prism Binoculars
The Vortex Optics New 2016 Diamondback 10x42 Roof Prism Binoculars have undergone a complete redesign and new Diamondback. The reason behind this makeover was to enhance the overall look and design of these binoculars to make them more appealing and provide them with a fresh look. This advanced version of binoculars is available for $180.25 only.
These binoculars are now very improved in their functionality and optical system too. The overlook is now upgraded with further are features such as a much more space to handle them with ease and 3 ounces lighter in weight than the original Diamondback. These can also be considered as the best birding binoculars of 2016.
Multi-Coated Lenses
These binoculars come with an improved and multi-coated lenses which make viewing much easier without any usual distortions. The dielectric and fully multi-coated lenses also make low-light performances very interesting and improved.
Roof Prism Binoculars
These are known as the roof prism binoculars because of the roof prism being used in their manufacturing. The roof prism enhances the resolution and contrast with the help of correction coating. The formula is upgraded to bring the best in these binoculars.
Use of Argon Gas
The use of argon gas in these binoculars make them not only fog free, but also moisture and dust which can result in the penetration of the binocular from debris. Therefore, it is super reliable in almost every kind of environment.
Refined Focus Knob
The new design of these binoculars has also been upgraded with the focus knob. The main advantage of this upgrade seems to be functioning perfectly, which is that focusing has been made much easier and clearer. Isn't it great? No binoculars can be considered as a perfect one, unless they serve with the best focusing ability.
Highlighted Features

The weight of the binoculars is only 0.5 lbs
The dimensions are about 2x6x5 inches
Magnification is about 10x
Objective Lens Diameter 42 millimetres
Eye Relief 15 millimetres
Exit Pupil Dimension 4.2 millimetres
3. Celestron 72022 SkyMaster DX 8x56 Binoculars
The Celestron 72022 Skymaster DX 8x56 Binoculars are another binoculars which are available for under $200. These are considered as the best birding binoculars available for under $200. Together with the quality construction and the super lightweight body, makes them perfect for those who love bird watching or want them to use outside. These binoculars also come with a very soft carrying case.
These binoculars are also widely used for astronomy. They give exceptionally best quality and clarity in the picture without any usual distortions. These binoculars are surely the quality product in price as low as $169.99. The Ultima DX series is considered as the best series introduced by the Celestron. Therefore, these binoculars are a must buy, especially for all the astronomy lovers out there. Also, these are also very good for the low-light observation. These are surely the most amazing Celestron Nature dx 8x42.
Multi-Coated Optics
The multi-coated optics present in the Celestron 72022 Skymaster DX 8x56 Binoculars are one of the best characteristics. The multi-coatings of optics make the viewing much easier which is highly appreciated by the users. The demand for extended terrestrial viewing sessions is clearly met in these binocular.
Waterproof Body
The waterproof body of these binoculars makes them further attractive to the interested buyers. This is because the requirement of saving binoculars from water proves to be quite a setback, especially if one wants to watch a certain view and water proves to be the hurdle.
Shock-Resisting
Yes, these binoculars come along with rubber which makes them shock-resistant. This particular feature is available in very few binoculars, and you can get this feature for under $200, along with many other incredible features.
Highlighted Features

No Fault Limited Lifetime Warranty
Binoculars Weight 2.2 pounds
Binoculars Dimension 4x9x10 inches
Magnification which these binoculars offer is 8x
Objective Lens Diameter is about 56 millimetres
Field of View being offered is 304 feet
Exit Pupil Diameter of Binoculars is about 7 millimetres
4. ORION-Orion 09351 UltraView 10x50 Wide-Angle Binoculars
The Orion UltraView 10x50 Wide-Angle Binoculars are the ultimate solution if you are looking for a gift for someone who happens to be a binoculars lover. These not only have some remarkable features but also prove to be durable. These binoculars are user-friendly, which makes the quite popular among the users. Spending some dollars on these binoculars is totally worth it. These are surely the best compact binoculars for the money.
These are designed to meet some demands of people which they mostly mention while looking for some quality binoculars. It has such a sharp image quality that people often find it hard to believe. When compared to the much expensive binoculars, one can easily witness the uncanny similarities and some better features too than some of the expensive ones.
Offers the best eye relief
These binoculars offer one of the best eye relief features. It can get real hard at times to view from the binoculars together with the glasses. These binoculars have got that problem covered for you. These offer 20mm extra long and luxurious eye relief. Not only eyeglass but they are sunglass-friendly glasses too. No need to worry anymore while wanting to watch some views, exposing your face towards the sun.
Cast-Metal Alloy Body
Yes, it comes with a rugged cast-metal alloy body, which is perfect stands up in the fields, without making gripping an issue because of the rubber armoured grip used in the making. The body is so fine that it does look very attractive.
Lens Caps
These binoculars come with lens caps which protects them from any dust, water splashes and fog. The lens caps prove to be of great help, especially when they help in protecting the lens so well, increasing their chances of being user a little longer than the usual ones because of immense care.
Deluxe Wide Neck Strap
A wide neck strap is really important when it comes to the binoculars. It is quite irritating and difficult to keep holding the binoculars in hands all the time; one might end up misplacing them. Therefore, binoculars must have a wide strap which can easily be put around the neck; the Orion Ultra-View binoculars have sorted out this problem for you as they come with a deluxe wide neck strap which makes the handling so much easier.
Highlighted Features

The dimensions 7.1x6x2.5 inches
Magnification it offers is 10x
Objective Lens Diameter 50 millimetres
Weight of binoculars is 2lbs only
Incredible Warranty of 10 years
5. Night Owl-Xgen 2.1x Digital Night Vision Viewer
As the name suggests, Night Owl-Xgen 2.1x Digital Night Vision Viewer is best for the night use. These binoculars are very light in weight and are portable too. As the Christmas sales are hitting the stores, you can find them at affortable price; this means you are saving some good amount of dollars.
These binoculars are certainly the best hunting binoculars available for under $200, you will surely agree with this statement, once you will get to know about its features.
Unique Design
The design of these binoculars is unique from the other typical binoculars. The appearance is quite appealing which makes the product interesting too.
Built-in Infrared Illuminator
Yes, you read it right! These binoculars have a built-in infrared illuminator which enables the user to view out to a distance of 70 yards. The ability to see from much distance through these binoculars is a plus point. Once the user gets used to these binoculars, the view can get further clearer, if handled properly.
Can be used for hunting at night
As you know, these binoculars are best for the night use. These can also be used for better views while hunting at night or maybe for the purpose of seeing animals at night without any hunting involved.
Highlighted Features

Lens Diameter is 20mm
Magnification is 2.1x
Portable and light weight
Range of View from as far as 200ft is approximate 40ft
No wired needed to be attached
Things Need To Be Consider

Compact Size:

It is better to look for some compact sized binoculars while looking within an affordable range because they would be easy to carry anywhere.
Fog Proof:

No one will want the fog as an interruption in their view on a cold night. So, watch out for this particular feature.
Magnification:

The magnification of binoculars is another important feature too, which needs to be kept in mind while looking for a relatively cheap binoculars. This is because such binoculars might offer very less magnification, ending up being quite useless for the buyer.
Conclusion
This article offers you, not only with the most affordable but also with the most durable and portable binoculars. It is very important to find some right binoculars if you want to enjoy an experience of a lifetime. Not every expensive binocular are the best ones; this is one of the facts which must have been at your fingertips by now. It is always better to make a list of the features, designs and specifications which you want in the binoculars. This will not only save the time but will also help in finding the most accurate set of binoculars which would be right according to your needs and demands. All those binoculars mentioned above are of the best quality and are available at the best prices. One can easily trust these binoculars because of the amazing features and durability they offer.